Here in the Pacific Northwest, we have hot dry summers and unless you are a committed waterer, it's best to find plants that once established, can tolerate some heat and drought. One of my favorite plants to fit this bill is Echinacea, or coneflower. Echinacea is a wonderful plant that has beautiful blooms, most often pink or magenta. Recently, new hybrids offer other colors in oranges or reds and yellows.
Echinaceas are hardy flowers and have a nice fall and winter interest as the seed cones will stay on the plant stem long after the bloom has faded. Birds and butterflies enjoy them as well. Some of the cultivars I have been successful with are E. 'White Swan' and E. 'Magnus'. A couple of years ago I planted one of the Echinacea hybrids from the Big Sky Series, "Sundown' it struggled to get established, but mainly I think because it only got part sun. I have since relocated it to a sunnier location in my yard and am looking forward to its beautiful tangerine blooms. Here's a pic: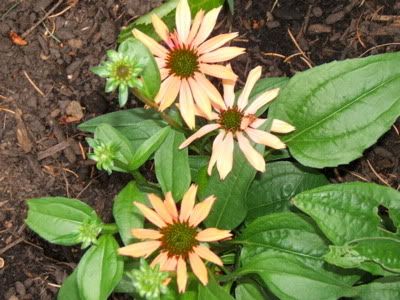 Echinacea "Sundown'
I am excited too about a couple new offerings from
Terra Nova Nurseries
. One is
Mac N Cheese
and the second is
Tomato Soup
. Both of these are brilliant new cultivars. I can't wait to get my hands on some. My love for echinacea is beginning to rival my love for daylilies!
You really can't go wrong with these hardy perennials, just give them plenty of sun and care for them well their first year with fertilizer and water until established. They will return for many years to bring beauty to your yard.