Springtime is here and all my perennials are putting forth fresh growth. Some are blooming, others like my echinacea, are leafing out to be ready for our sunny Pacific Northwest summers.
I was surprised this year by my bleeding heart. It gets morning sun and afternoon shade, and it has grown absolutely enormous! It is almost 3' x 3' and is loaded with blooms. Here it is next to my rhododendron:
Here is a close up- you can see all the beautiful blooms: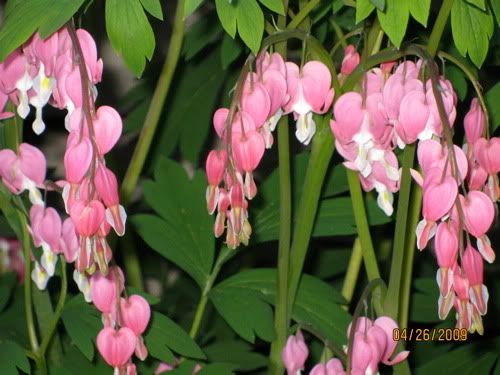 The bleeding heart has always been one of my favorite plants, the pink blossoms opening to white are so delicate. I have always thought of them as a living analogy of the shed blood of Christ making atonement for our sins. Every spring this plant bring joy to me. It also happens to bloom right around Easter, which is fun too.
One of the things I love about spring is the brilliant color that emerges. Sometimes new growth has a color unlike any other. Take for example, this acer palmatum, "Sango Kaku', or coral bark maple:
Its delicate fingered leaves remind me of the wet feathers of a baby bird just coming out of the egg. They are such a brilliant green tinged with red- and very striking against the red branches of the tree. This tree really has all season interest, and a nice form as well. You can see it a bit farther away here: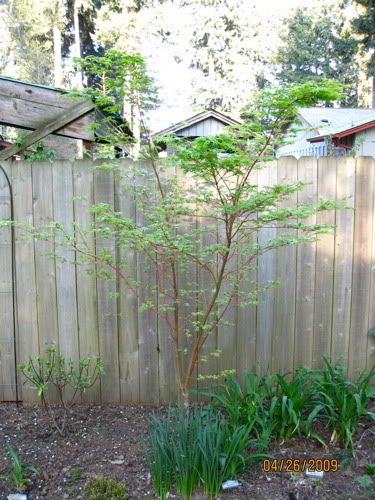 One of my other spring showstoppers is Spiraea Japonica "Magic Carpet'. This japanese spirea positively glows in the spring and not only does it bloom in the early summer, it will rebloom if sheared and has beautiful fall color. It looks great massed together and provides a nice impact for the plant border. Here is a close up of the foliage. So amazing!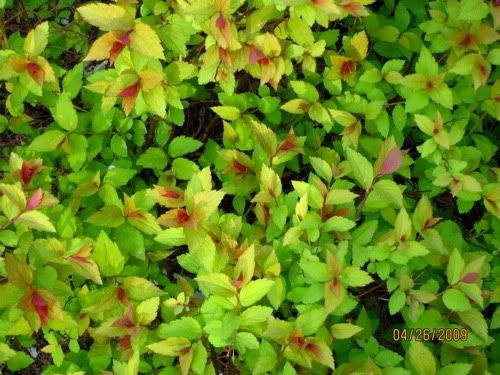 Another plant that has some beautiful foliage is this variegated andromeda: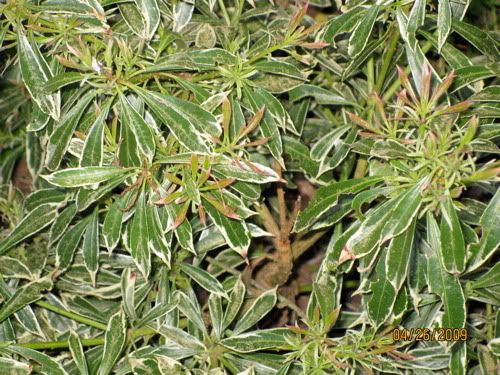 Its creamy white variegation and reddish pink new foliage really brightens up the shady corner of my yard. It is a slow grower, but well worth the wait. It is also evergreen, which is a nice feature as it provides some interest in the winter when all my perennials are slumbering in the earth.
Spring is such a beautiful time of year -- fresh blooms, the fragrance of lilacs in bloom, brilliant dogwoods lighting up the landscape with their white and pink blooms. How can one not be inspired? Its going to be a beautiful weekend- and a good one to get your hands dirty. Have fun!