The longer I garden, the more I realize that having a nice landscape is not about having tons of perennials or shrubs that bloom. You can actually create beauty with fun textures and plant foliage combinations like the one below: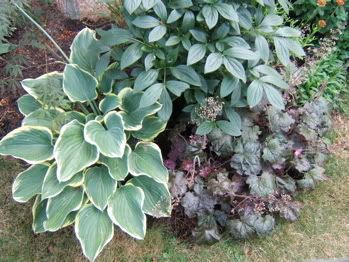 In this picture, we have the spring growth of Hosta "Aureomarginata' with Heuchera 'Palace Purple' and the foliage of a peony. You can see the how the contrast in the hostas variegated leaf contrasts in a pleasing way with the dark purplish foliage of the Heuchera. The peony provides some height and a lacy texture to complete the scene.
Do you have any favorite plant combinations? Please feel free to share in a comment!